5 most popular upscale restaurants in Bali
While some would rightfully argue that the best Balinese food can be found on the streets and in local warungs – this article is not about that. This is about the top 5 most popular high-end and more upscale restaurants in Bali, frequented by foreigners and local business people.
Do you know better ones? Share in a comment or send us your list here.
CUCA – Jimbaran Bay
Located in Jimbaran, Cuca is a casual experience, where the total focus is on food. Serving small portions meant to be shared, all the ingredients are sourced from Indonesia. You can dine indoors or enjoy courtyard seating outdoors.
MEJAKAWI – Seminyak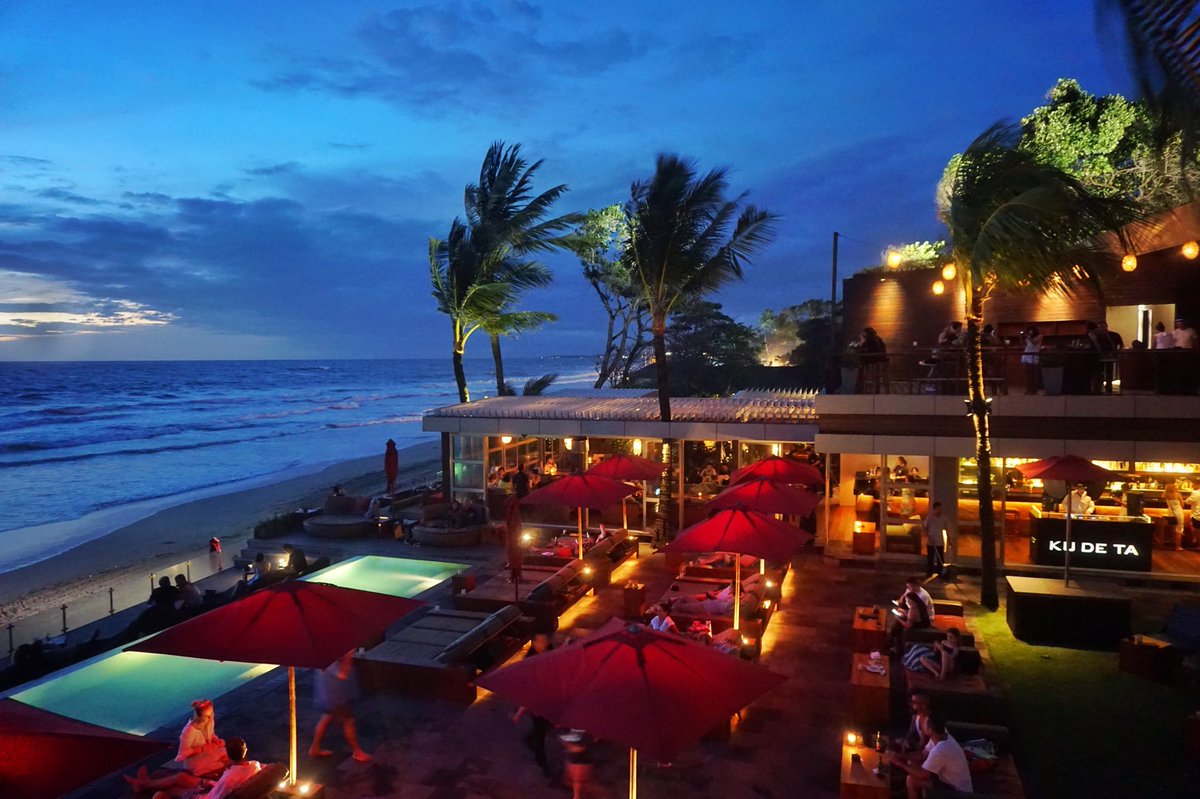 Possibly my favorite place to watch the sunset in Bali, KuDeTa is the original Bali Beach Club. Its onsite restaurant perched high on the first floor, Mejekawi, is a fine dining restaurant that offers degustation menus with fabulous ocean views. The tasting menu changes all the time, always inspired by the local produce available. There's also wine pairing options and contemporary cocktails creations. Loosely translated, Mejekawi means sacred table; if you're a true foodie, I definitely recommend this for a special occasion.
LOVACORE – Ubud
Come to Lovacore to experience a truly culinary adventure with its famed seven-course degustation menu, using local ingredients destined to celebrate the farmers, fishermen, and food artisans of Indonesia, all cooked in a small galley-style kitchen. Carefully trained employees give the ultimate in service and the food is amazing. The owners are committed to environmental sustainability, with even the kitchen waste being fed to local pigs or used as compost in the vegetable gardens. Lovacore has firmly established itself, listed in Asia's 50 Best Restaurants, so book at least two weeks in advance for an indulgent dinner.
SAKE NO HANA – Uluwatu
Positioned high above the Uluwatu coastline, Sake No Hana is the perfect place to sip on sake and savor gourmet Japanese cuisine. This internationally-acclaimed modern Japanese restaurant is the culinary heart of the equally impressive Omnia Dayclub. During the day, enjoy share-plates and bento boxes while gazing over the magnificent views of the Indian Ocean. In the evening, catch the best sunset while feasting on charcoal grills, Toban and Kamameshi traditional style meals. Or sit at the Sushi Bar where fresh sashimi and sushi is freshly prepared right before you. Originating from Mayfair in London, the specially crafted cocktails are to die for. This restaurant has all the bells and whistles, reservations are recommended to ensure you get a table.
KORAL – Nusa Dua
Located in the Apurva Kempinski hotel, Koral Restaurant is Bali's first aquarium dining experience. Featuring fresh ingredients, this seafood restaurant includes dishes inspired by the Indonesian archipelago and prepared using locally-sourced ingredients. It's unique, as you sit and enjoy delicious foods while enjoying the ambience of a giant tropical aquarium. It carries a fine selection of wines from all over the world, Indonesian craft beers and there are expert mixologists on hand to serve innovative cocktails. Reserve a table at least 48 hours prior to avoid disappointment.