Relax with aquarium therapy at this new underwater Bali restaurant
For over a century Kempinski hotels have offered guests luxury experiences in stunning locales. From palaces in Istanbul to colonial spendour in Cuba, Kempinski certainly know how to host – and their opulent new resort in Bali has an underwater restaurant guaranteed to elevate your holiday experience.
At Koral restaurant, diners enter through a glass-roofed tunnel and are seated around an enormous aquarium full of colourful tropical fish. Watching all the marine life going about their aquatic business creates a sense of relaxation that borders on the hypnotic. In fact, there's a term for the pleasant trance you fall into while watching a fish tank – aquarium therapy. It's the reason so many dental and medical practices have fish tanks in their waiting rooms, and studies have found that the bigger the variety and number of fish in the tank, the calmer you feel. By this logic, having a meal at Koral next to their expansive ocean display is visual Valium.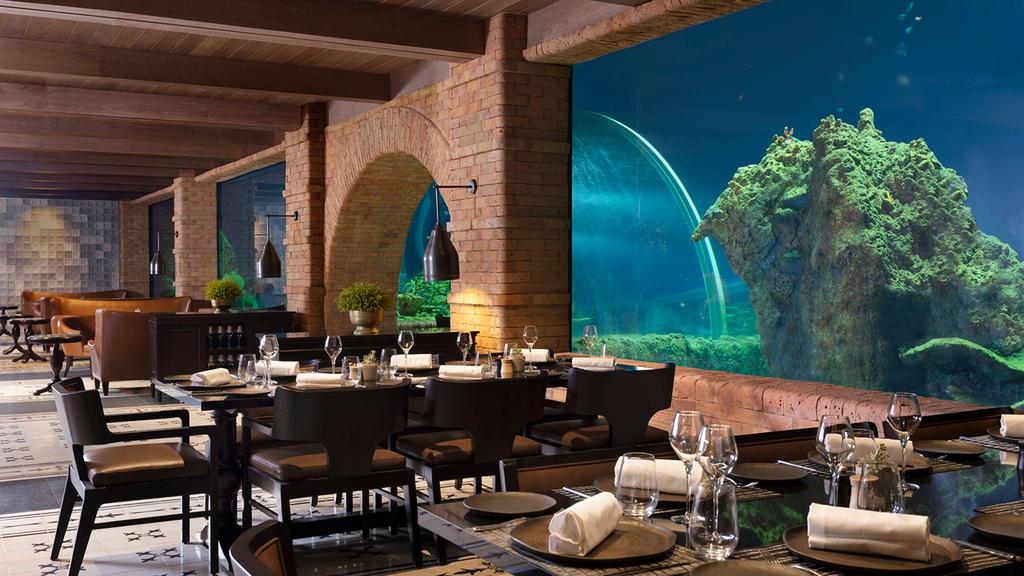 Located in Nusa Dua, Koral's décor is classically Balinese and inspired by the prosperous Majapahit empire (which fanned out from Java and flourished across Indonesia for 300 years). The ceiling is teak wood, while the walls that frame the aquarium windows are made from traditional red-clay bricks. Black and white tegel tiles are underfoot, just as they were in the Majapahit royal court.
Koral champions fresh local seafood served with Indonesian spices – all of it sourced wild from the ocean, none of it from the tank in front of you. Grilled and barbecued to perfection, stand-out dishes include jumbo prawns served with salsa, tomato and chili, as well as blue crab served with apple, lemon, basil and ginger. The cellar is stocked with wines from around the globe and a cocktail station offers creative Indonesian takes on classics, like spiced ink mojitos. A kids' menu is also available.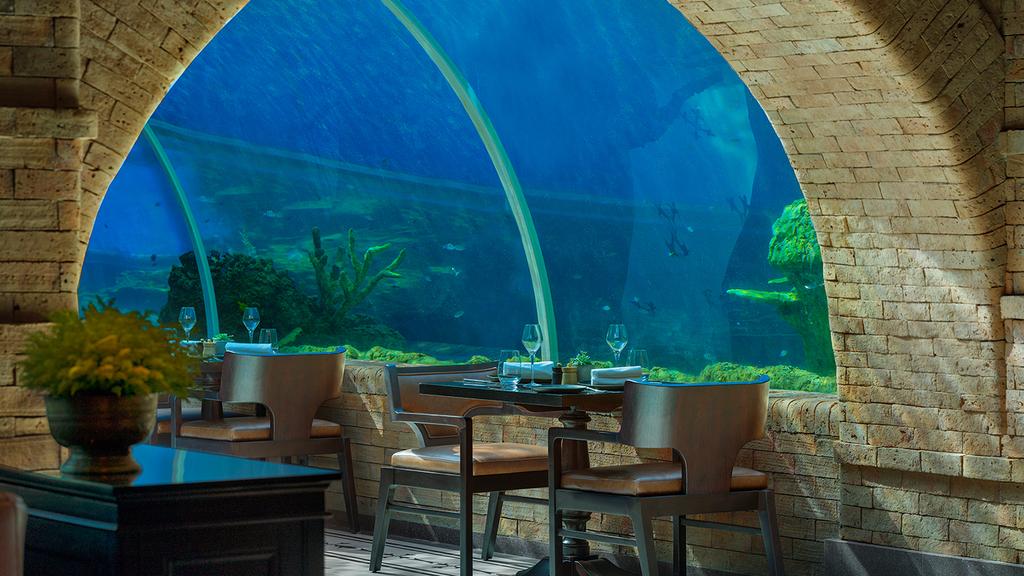 "As Bali's first underwater restaurant, Koral promises something completely unique," says Vincent Guironnet, general manager of The Apurva Kempinski Bali. "Our bistronomic concept combines all aspects of the dining experience, with elegant dishes inspired by local flavours, a warm and welcoming ambiance and the one-of-a-kind opportunity to dine inside a tropical aquarium."
Restaurant policies, terms & conditions:
Advance reservation is required to avoid disappointment
Please note that we may not be able to accommodate your requests for specific seating, our table layout will remain the same
Dress code is Resort Chic: no sleeveless, board shorts and flip-flops
For our guests convenience, the holding time for the tables will be 15 minutes from reservation time, and the table will be released automatically if it reached the determined time
Menu availability are subject to change without notice. Please contact the Restaurant for further details
Photographs are recommended during visiting time between 12:00 – 16.30. It's not allowed to take photos around the restaurant during dinner time in order to protect the privacy of other patrons
Children are always to be seated during dinner, children menu available
A credit card guarantee of IDR 500,000 net/person (TBC) is required to confirm your reservation. The amount is debited in case of no show only
Visit: Koral Restaurant